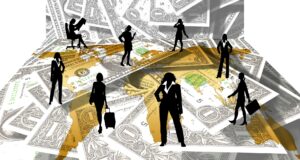 Utah is close to the bottom of the barrel in America for the Gender Pay Gap according to a Fortune article at the end of January. (Farber, 2017) It is embarrassing to live here.  I've known this for some time, and I've often felt helpless as to how to change this problem.  However, last week I had an epiphany.  There is a way to overcome the gap!
I had been listening to a podcast from the Dave Ramsey group about compensation and profit sharing.(Dave Ramsey Entreleadership, 2016) In the podcast, they said that 40% of the workforce didn't believe they were being paid enough.  I looked up the article they referred to on Glassdoor.  However, looking at the article, it was more about the Gender Pay Gap(Glassdoor Team, 2014).  I guess thinking about the pay gap, and profit sharing finally got me to realize.  When I implemented profit sharing and then studied it first-hand for over eight years,  I realized profit sharing gets rid of the Pay Gender Gap.
The top paid people in my organization were women.  There were a few that were making over $40 an hour.   These were minority women, African American, Asian American, and Latinas.  They all had children.  Their wages were made up of profit-sharing strategies that rewarded the employees that were bringing the most value to the company.   There were men that had the same opportunity to make the same money, but they were not the top performers.
I have also seen women be the top performers in sales organizations.
In compensation methods that exchange money for time, it seems that women have to work harder, be meaner and speak louder to be heard than men.
We need to remember the words of Fredrick Taylor "The principal object of management should be to secure the maximum prosperity fo the employer, coupled with the maximum prosperity for each employee." (Taylor, 1911)  I am going to point out that he doesn't mention anything about race, color or sex in that statement.
When performance is measured, and compensation is tied to value it is almost impossible to build in discrimination against race, color or sex.
We need to get more effective profit-sharing strategies into businesses.  It will bring about the maximum prosperity for the business and the employees.  Profit Sharing will eliminate the Gender Pay Gap.
Works Cited:
Dave Ramsey Entreleadership. (2016, January). Compensation Webinar. Retrieved from https://entreleader.leadpages.co/compensation-webinar-replay/
Farber, M. (2017, January 19). This State Has the Largest Gender Wage Gap in the U.S. Fortune.com, 1. Retrieved from http://fortune.com/2017/01/19/gender-wage-gap-by-state/
Glass Door Team. (2014, April 18). 2 in 5 Employees Do Not Believe They Recieve Fair Pay. Retrieved from Glassdoor.com: https://www.glassdoor.com/blog/2-5-employees-receive-fair-pay-glassdoor-survey-explores-income-inequality-gender-breakdowns/
Taylor, F. W. (1911). Scientific Management. New York and London: Harper & Brothers Publishers.